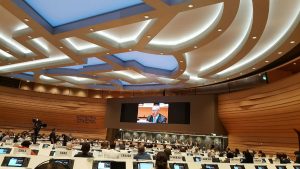 On May 31, 2017, World Health Assembly adopted a new resolution on the prevention and control of cancer.   UACT earlier wrote about the negotiations on the resolution here and here.  IP-Watch published a story about the resolution here.  A not quite final version of the text is here.
The following are statements from four members of UACT:
Dr. Manon Ress, Founder and Acting Director, Union for Affordable Cancer Treatment (UACT)
UACT was among 29 civil society organizations and 33 health professionals, activists, and economists — including Nobel Prize laureate Joseph Stiglitz — asking delegates to WHA to support a feasibility study on the progressive delinkage of the costs of research and development from the price of cancer medicines. UACT is, of course, disappointed by the weakening of the earlier versions of the text, that called for transparency of prices and R&D costs, access gaps, and a feasibility study of delinkage. However, while a feasibility study is no longer mentioned in the resolution, any examination of pricing approaches to improve access and affordability will lead to the recognition that it will only be achievable if we look at new ways to fund innovation.
Ellen 't Hoen, member of the UACT Expert Advisory Board.  Medicines Law & Policy/Global Health Unit – University Medical Center Groningen
The comprehensive resolution to radically step up actions to prevent, detect and treat cancer, adopted this week by the World Health Assembly is ambitious and much needed. The implementation of the plan will require courageous steps by political and global health leaders to ensure cancer prevention, treatment and care are affordable and available to all in need.  This resolution in particular will strengthen WHO's work on medicines pricing. It gives WHO Director General Dr Tedros the mandate to take courageous action on access to medicines at a time that all countries struggle to pay for medicines. The resolution is clear that this action should include the development of new incentive models such as "delinkage" models for the financing of the research and development of new essential medicines. Such new incentive mechanisms are also recommended by the UN High Level Panel on Access to Medicines and the Lancet Commission on Essential Medicines.
Ophira Ginsburg, MD, member of the UACT Expert Advisory Board.  Director, High Risk Program, Laura and Isaac Perlmutter Cancer Center, NYU Langone Medical Center. 
The new cancer resolution just passed at the World Health Assembly is a great step forward in the global effort to prevent, treat, and cure cancer. It provides a "road map" for all of us, member states, civil society, academics, cancer researchers and patient advocates, to work together to reduce cancer care inequities across the world and within countries. WHO's Member States are urged to develop and implement national cancer control plans "with a focus on equity and access". Specific recommendations include: reducing exposures to major cancer risk factors such as tobacco and alcohol, increasing population coverage for hepatitis B and human papillomavirus (HPV) vaccines, and improving equitable access to early diagnosis with effective and affordable treatment, including palliative care. It is a big 'ask' particularly where resources are profoundly constrained, both financially and in terms of the cancer care workforce. But much can and should be done. WHO and its sister UN agencies are committing to providing ongoing global leadership to help countries reach this goal.
Jordan Jarvis,  UACT Board member.  Executive Director Young Professionals Chronic Disease Network
Cancer affects mothers, fathers, sisters, brothers, and loved ones everywhere– it does not discriminate. Yet, most of the world's suffering and unnecessary deaths from cancer occur in low- and middle-income countries. When it comes to responding to rising rates of cancer, the personal has become political in most countries. The adoption of the cancer resolution matters, because it will guide governments and non-state actors toward tangible national action to improve equitable access to smoke-free/healthy environments and vaccines that enable cancer prevention, early detection, affordable and appropriate treatment, pain control and palliation, and to strengthen the health workforce equipped to respond to cancer patient needs. But this is just the beginning: we call for rapid and bold action from governments to implement the resolution in their countries and that the WHO, under the new leadership of Dr. Tedros Adhanom Ghebreyesus, further prioritize the rising burden and inequities in cancer prevention, treatment and control.