On Wednesday, 24 May 2017, UACT participated in Knowledge Ecology International (KEI), Oxfam and Stichting Health Action International (HAI) WHA side event on addressing access barriers and affordability challenges for cancer medicines.
This event focused on policy options to address the access barriers and affordability challenges for cancer medicines, in conjunction with the Assembly's consideration of agenda item 15.6 – Cancer prevention and control in the context of an integrated approach.
In 2012, cancer was the 2nd leading cause of death in the world (8.2 million); cancer cases are projected to increase from 14.1 million in 2012 to 21.6 million in 2030. Panelists will address 1) lawful pathways to ensure cancer treatments are affordable and widely available and 2) alternative models of innovation as envisioned by the WHO's Global Strategy and Plan of Action on Public Health, Innovation and Intellectual Property.
The primary incentive to invest in R&D for new cancer medicines is the grant of a monopoly that allows pharmaceutical developers to charge high prices for many years. These high prices have resulted in unjust outcomes including rationing, unnecessary pain and death.
New medicines are expensive due to policies, not physics, chemistry or biology. A policy to grant an IPR monopoly, through patents, data exclusivity or other IPR mechanisms, is designed solely to induce investments in R&D. Countries can regulate or eliminate monopolies, and some do. As countries wrestle with affordability issues, they can seek technical assistance from the WHO or other entities in order to use lawful pathways to ensure treatments are affordable and widely available — including through the granting of compulsory licences.
Some governments and experts have proposed the creation of very large innovation funds that would allow countries to take measures to lower drug prices without having an adverse impact on R&D. These include proposals made to the WHO by developing countries during the CEWG process, but also in hearings in the European Parliament, the US Congress and in submissions to the UN Secretary-General's High-Level Panel on Access to Medicines.
Panelists at the side event examined the challenges and opportunities of such a fund, including by examining the magnitude of the investments needed to ensure appropriate levels of investment for the development of new products, and the mechanics of the push and pull mechanism, including robust innovation inducement prize rewards, for successful drug development, as well as research grants.
In addition, panelists commented on the cancer resolution expected for adoption at WHA 70 which mandates the WHO to:
to prepare a comprehensive technical report to the 144th Executive Board that examines pricing approaches, including transparency, and their impact on availability and affordability of medicines for the prevention and treatment of cancer, including any evidence of the benefits or unintended negative consequences, as well as incentives for cancer R&D investment and innovation of these measures, as well as the relationship between inputs throughout the value chain and price setting, financing gaps for cancer R&D, and options that might enhance the affordability and accessibility of these medicines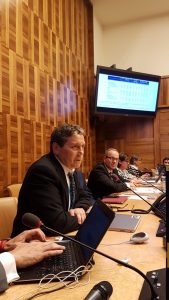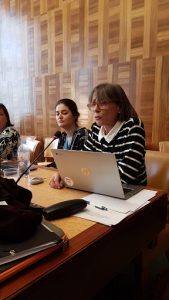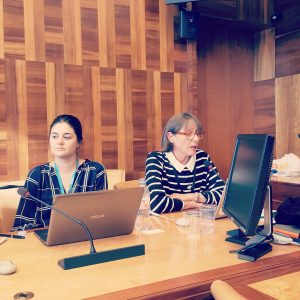 Panelists included:
Guilherme de Aguiar Patriota, Ambassador. Deputy Permanent Representative of Brazil to the United Nations Office at Geneva
Manon Ress, Founder and Acting Director. Union for Affordable Cancer Treatment (UACT)
Catherine Tomlinson, Cancer Alliance, South Africa
Ellen 't Hoen, Medicines Law & Policy/Global Health Unit – University Medical Center Groningen
James Love, Director, Knowledge Ecology International
Peter Beyer, Senior Adviser, Department of Essential Medicines and Health Products, World Health Organization
The panel was moderated by Tido von Schoen-Angerer, MD, MPH (Centre Médical de La Chapelle, Geneva, Switzerland/Dept of Pediatrics, Fribourg Hospital, Switzerland)